Covert Riding Flannels | Temecula Harley-Davidson Motorcycles Southern California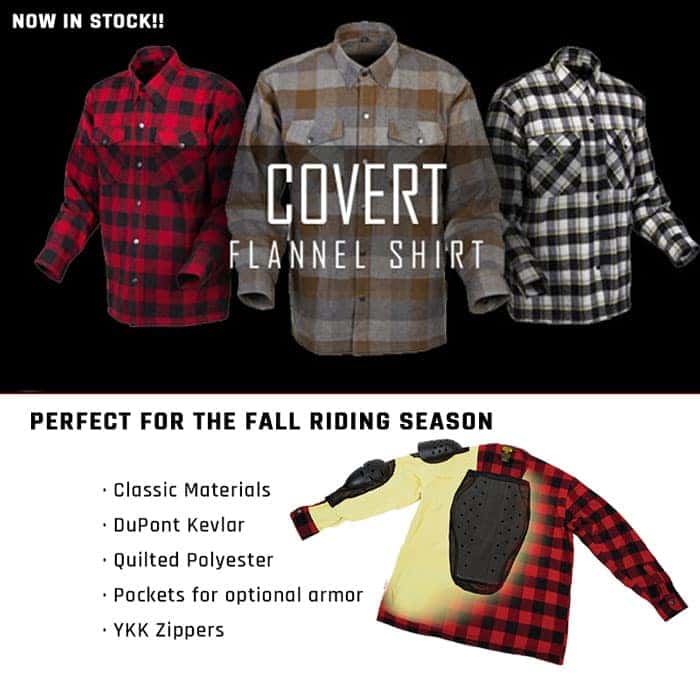 The Scorpion Covert Flannel was designed from the very beginning to protect from abrasion and impact. The entire shirt has been reinforced with protective lining not just a small patch at the elbows. Additionally all the critical seams have our unique Exo-Stitch® to keep this shirt together if you hit the ground. If you want extra protection from impacts, there are pockets for optional SAS-TEC® CE armor at the elbows, shoulders and back.
• Classic Cotton / Poly flannel outer material
• 165G DuPont™ Kevlar® lining
• Quilted Polyester lining
• Mesh pockets on elbows, shoulders, and back for optional SAS-TEC® CE certified armor
• YKK® center front zip
• Two upper chest external pockets and 1 internal chest pocket
• 1 year warranty
At Temecula Harley-Davidson Motorcycles – Southern California, we're not just a proud new & used Harley-Davidson motorcycle dealer, we're also riders. So we know the freedom and adventure you'll find with the right motorcycle. We serve the Temecula, San Diego, Orange County and Los Angeles California areas, offering the best in new and pre-owned motorcycles. Our friendly and knowledgeable staff in our sales, financing, service, and parts departments are prepared to make sure your experience is outstanding, from Harley-Davidson authorized service, customization and maintenance to motorcycle helmets, jackets, riding gear, parts and accessories. At Temecula Harley-Davidson Motorcycles – Southern California, we value the opportunity to create a long term relationship with our customers, and we do that by making sure to exceed your expectations.